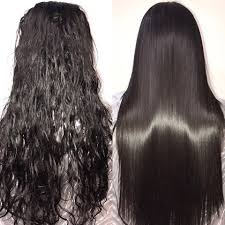 Uberliss Keratin Treatment
Uberliss Keratin Smoothing Treatment broke through the professional beauty industry with their groundbreaking smoothing treatment that offers all of the results, with a zero harsh chemical promise. The Uberliss Keratin Treatment gives Silky, Soft, and Smooth Hair for 3-4 months. The Uberliss formula gives superior shine and humidity repulsion. All Uberliss formulas are Formaldehyde and Methylene Glycol Free
BRAZILIAN BLOWOUT IS THE ONLY SMOOTHING TREATMENT ASKED FOR BY NAME. Through the use of breakthrough bonding technologies, these customizable smoothing treatments actually improve the condition of the hair by creating a protective protein layer around the hair shaft to eliminate frizz and smooth the cuticle.
What makes our professional smoothing treatments different?
CUSTOMIZABLE - keep and define your curls OR go for a sleek and smooth look.
GREAT FOR ALL HAIR TYPES - wavy, straight, curly or coily? If you've got frizz, we've got you covered!
NO WAITING PERIOD - the minute you leave the salon you can immediately wash your hair, exercise, put it in a pony tail or clip without having to wait days to do so.
FINISHED IN THE SALON - in 80 minutes or less you get smooth, frizz-free hair for up to 12 weeks.*
NO LINE OF DEMARCATION WITH NEW HAIR GROWTH - great for transitioning from Japanese straighteners, relaxers or keratin treatments.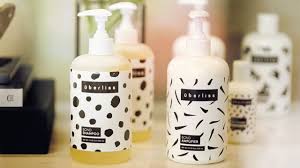 The Uberliss Bond Treatment was created by world renowned chemist Dr. Ali Syed. This patent pending system consists of the Bond Regenerator, Bond Shampoo, Bond Amplifier and the Bond Sustainer. These products work together synergistically to retain hair strength and integrity during the color and lightening process. Our unique 3 step process maintains the hair's tensile strength at 98% after using 40 volume developer and powder lightener. The Uberliss Bond Treatment will take your clients hair to the next level and allow for better color retention, increasing elasticity, reducing porosity, eliminating frizz, making the hair easier to comb through.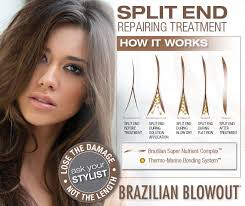 Split End Correcting Treatment
A. The Split End Correction Treatment is a 10 minute service that is only performed on the ends of the hair to instantly repair, mend and seal broken and split ends for up to 4 weeks. The Brazilian Blowout Smoothing Treatment is a 80 minute service that smooths, eliminates frizz and improves the health of the hair from roots to tips for up to 12 weeks.

Eyelash Extensions are individual lashes placed on your real lashes one by one to add Length ,volume or both. They typically last 3-4 weeks and take about 1-2 hours for your first Full set. You can go with a more natural set or you can go all out with our bombshell volume set.
LIfting and Tinting is the process of "perming" the natural lash, and tinting the lash with color specially designed for use on the lash. A lift and tint will great natural volume, and is a great option for clients who do not want upkeep of extensions, or who have sensitivities to lash extension glue. This services takes about an hr and lashes for upto 8 weeks depending on the clients shedding speed.
Reset Spa Scalp Treatment
Reset scalp treatment is designed to safely and effectively cleanse the scalp while relaxing. A scalp treatment will
Promote healthy hair growth
Maintain scalp health
Improve dry, itchy scalp issues
Remove build up from products
It is recommended you receive a scalp treatment every 4-6 weeks when dealing with itching or flaking.
during your scalp treatment, you will have our Reset cleansing oil used to deep clean your scalp with a scalp massaging, and exfoliating brush for 5 minutes. After the Reset treatment is rinsed away, we apply a deep conditioning treatment on the ends of your hair for nourishment, and moisture. You then recieve a hot towel head wrap and will relax with this on your hair for 10 mins. Once the hair is rinsed your scalp and ends are fresh and ready! Time for a blowout and your good to go.